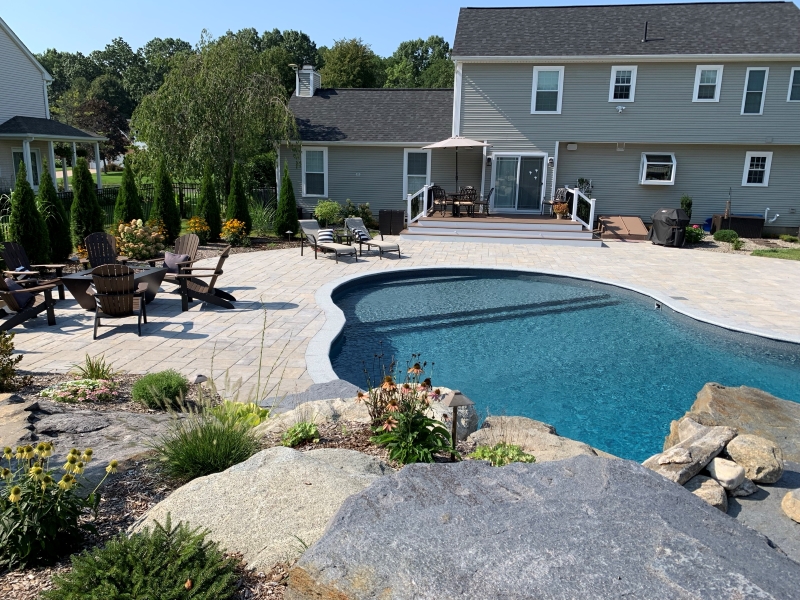 Poolscape – Westfield, MA 01085
We were asked by our clients to turn their current backyard in Westfield, MA into an outdoor oasis to entertain their family and friends. After coming up with the perfect design to meet their needs, we were able to turn their dreams into a reality.
The project started with the installation of a 22' x 36' Mountain Pond-style inground pool by Juliano's Pools and Spas. The pool included features including; sun ledge with bleacher-style steps and LED lighting. We started off the poolscape by installing granite coping lining the edge of the pool and then adding approximately 2,800 sq ft of paver patio space. The paver patio was built using Unilock, Beacon Hill Flagstone in the Fossil color. These pavers tied in well with the natural elements of the pool's boulder waterfall feature we built using a variety of natural granite boulders, with some weighing up to 10,000 lbs.! To create a uniform transition, the deck leading from the back of the house, to the new patio was rebuilt by Burke Construction.
We then added elements they required for their entertainment needs by installing a large pergola manufactured by Hometown Structures. The added canvas top and retractable sunshade off the back of the pergola offers extra protection from the sun's UV rays and added privacy. A 40" square gas fire pit with a hammered copper finish, was added for relaxing by the fire at night. For the ultimate evening entertainment experience, low voltage lighting was added throughout the patio and landscaped area including up lighting for trees, pathways, and waterfall lighting. We finished the project off with a custom landscape design around the patio including; bark mulch, plantings, and trees. We were able to give our clients exactly what they wanted and needed for a backyard oasis that will give them many years of enjoyment!
If you would like to have a backyard designed & installed just like this one, please contact us for a free design consultation.