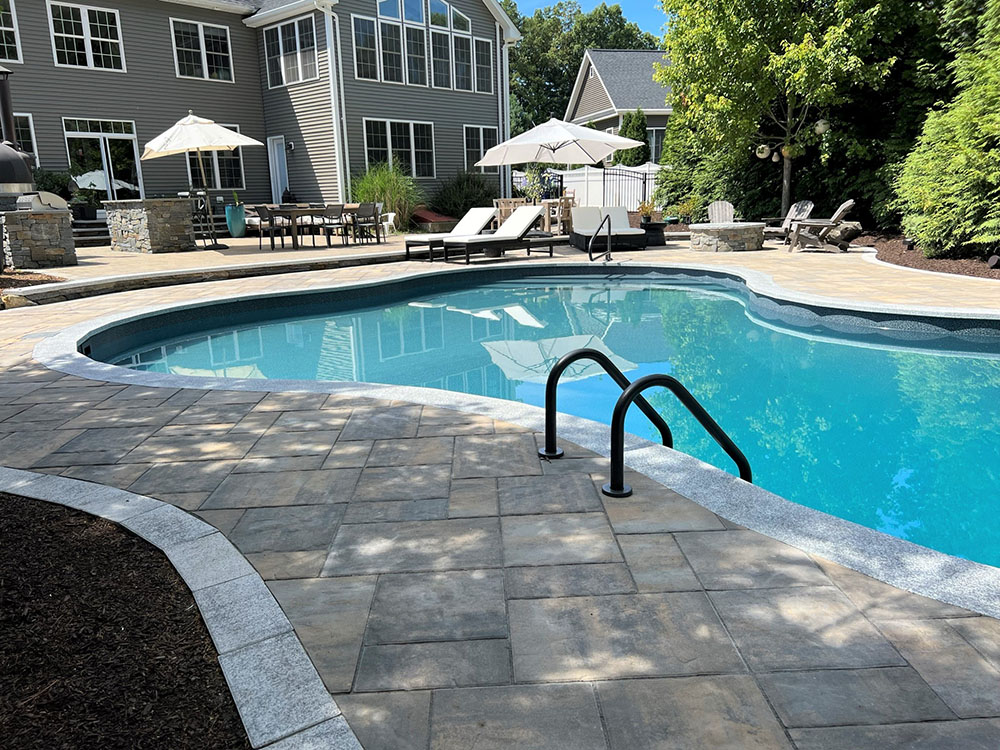 Poolscape Entertaining Space Addition in Easthampton, MA 01027
One of our longtime clients contacted us to design and build a poolscape area that extended from their existing patio and outdoor kitchen we installed several years prior. We designed a poolscape that fit all their need, providing them with additional outdoor living space with a seamless finish.
We started by having the 18′ x 37′ x 29′ Lagoon Style inground pool installed by Juliano's Pools and Spas. Once the pool was installed, we began work on the poolscape by first adding a beautiful Granite coping around the pool. The crew then installed a large Granite jumping rock at the deep end of the pool. We created a transition step along the entire edge of the existing patio, stepping down to the new 1,000 sq ft pool patio addition. We used Unilock Beacon Hill Flagstone pavers in the color Almond Grove to match the existing patio. A paver walkway was added to the patio area leading to the driveway entrance tying the previous patio and the addition together, making it one large entertaining space. Our crew then added the elements needed for the ultimate backyard entertaining space by installing a 5 ft diameter propane fire pit made using a stone veneer to match the existing kitchen islands. The fire pit was then capped using 2" thermal Granite with a rock-faced edge. We finished the project by having an outdoor sound system installed providing sound for the entire backyard, and landscape lighting to the firepit and transition step connecting the two spaces, which added to the overall ambiance and safety while navigating the outdoor living space at night. We were able to deliver a backyard oasis the family loved and will enjoy for years to come!
If you would like to have a backyard designed & installed just like this one, please contact us for a free design consultation.