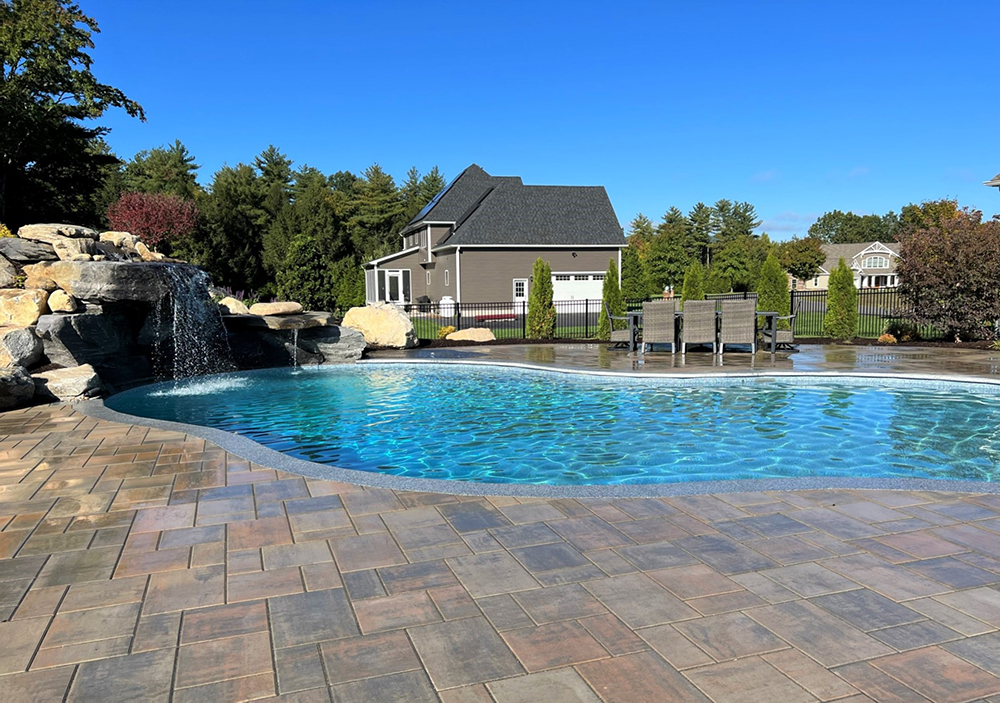 Natural Stone Pool Waterfall in Southampton, MA 01073
We were asked by our clients to turn their current backyard in Southampton, MA into an outdoor oasis for their adventurous young family. After coming up with the perfect design to meet their needs, we were able to turn their dreams into a reality.
The project started with the installation of a 24' x 40' Mountain Pond-style heated inground pool by Juliano's Pools and Spas. The pool included features such as; a deep end cuddle cove bench, bleacher-style steps, and color-changing LED lighting. We started off the poolscape by installing Stanstead granite coping lining the edge of the pool and then adding approximately 2,400 sq ft of paver patio space. The paver patio was built using Techo-bloc, Blu 60 HD2 Smooth in the Champlain Grey color. We then installed a banding using Techo-Bloc Squadra in the Onyx Black color. We finished the patio with a soldier's course using the same Techo-Bloc Blu 60 HD2 used for the main portion of the patio. We transitioned the paver patio into the natural elements of the pool's impressive 6' boulder waterfall feature, which includes two waterfalls and several levels of jumping platforms. We built this using a variety of natural granite boulders, with some weighing up to 6 tons and needing a crane to set them in place! Lastly, two sets of Stanstead granite steps were installed leading to both the existing deck and screened-in porch.
We then added a 5' diameter wood-burning firepit using New England Ledge Stone veneer and Stanstead granite coping, giving them a place to both relax by the fire and roast marshmallows with the kids at the end of a busy day by the pool. We were able to give our clients exactly what they wanted for a backyard oasis that will give them many years of enjoyment!
If you would like to have a backyard designed & installed just like this one, please contact us for a free design consultation.