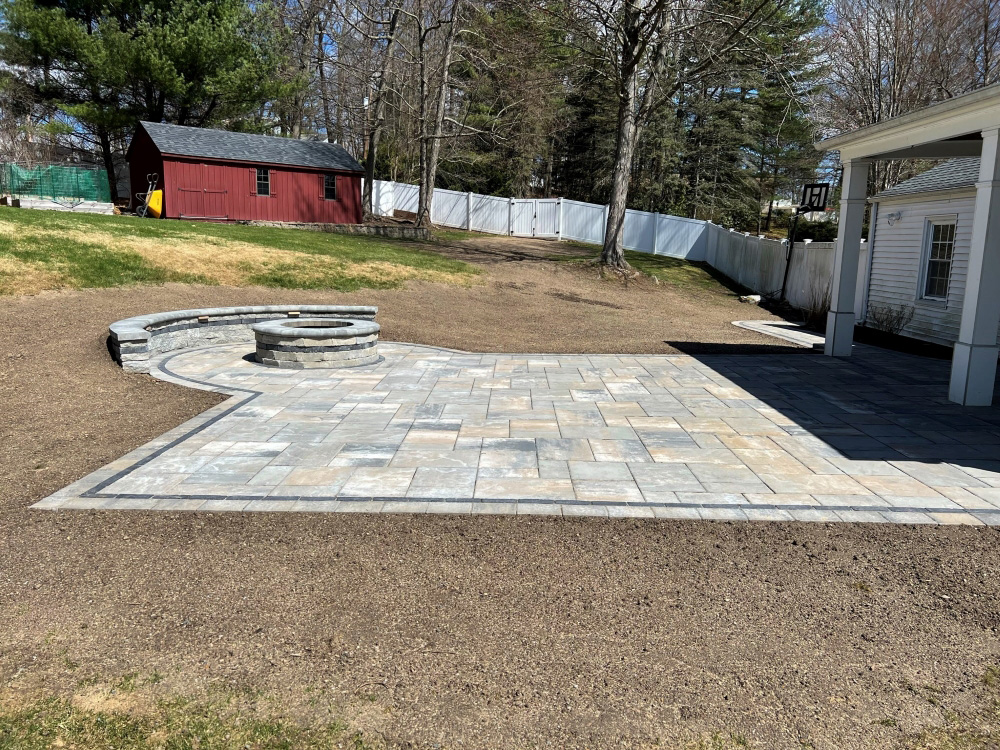 Paver Patio Makeover with Built-In Firepit -Westfield, MA 01085
Our client contacted RJM Landscaping requesting a design for a new, larger patio with a built-in fire pit and walkway, to replace their existing paver patio. We designed the perfect outdoor living space and gave them a backyard patio for the whole family to enjoy!
The project started with the removal of the existing patio. The footprint of the patio was expanded by excavating into the slope of the backyard. The 700 sq ft paver patio and walkway was built using Unilock, Beacon Hill Flagstone in the color Fossil with a decorative banding using Copthorne in the color Basalt.
We then built a wood-burning firepit using Unilock Brussels Stone block in the color Almond Grove for the main construction with a decorative banding using Unilock Copthorne pavers in the color Basalt to help tie it into the patio. We used Unilock Brussels full nose coping in the color Limestone to cap off the firepit. The firepit area was finished off by building a radius retaining seat wall into the slope using Unilock Estate Wall in the color Granite, Copthorne Basalt banding and capped it with Brussels Limestone coping to match the firepit. Cast Low Voltage Landscape lighting was added under the coping of the seat wall to provide extra lighting when the firepit is not in use.
If you would like to have a backyard designed & installed just like this one, please contact us for a free design consultation.