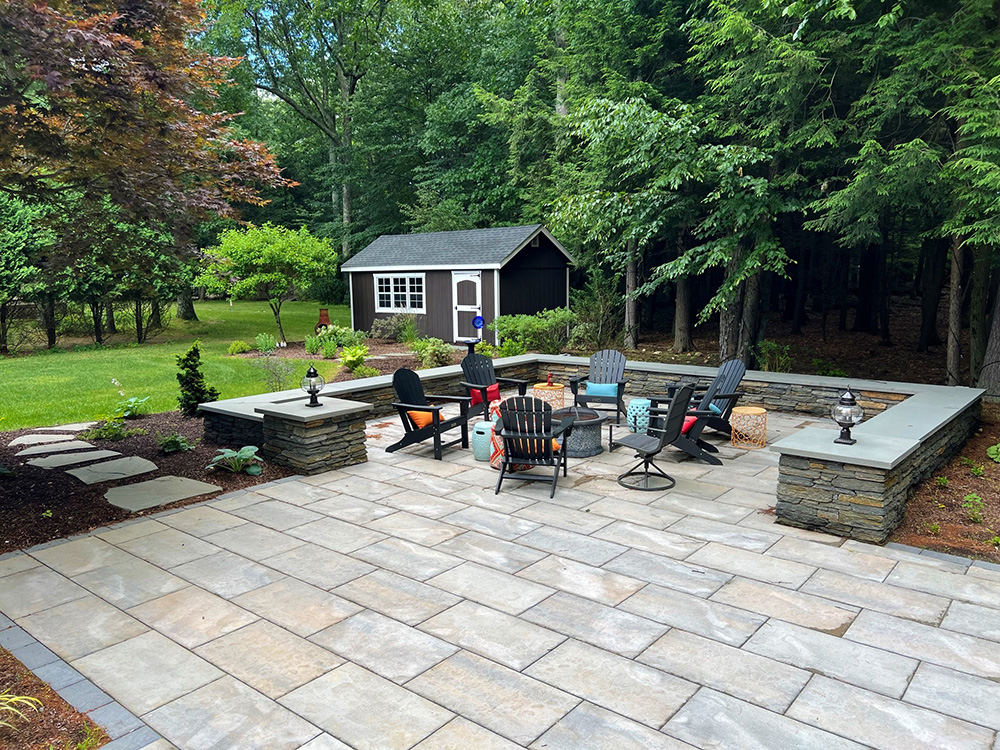 Natural Outdoor Living – Easthampton, MA 01027
We were contacted to design a new outdoor living space after being referred by one of our previous happy clients. A master landscape design for the property consisting of an outdoor living space & entertainment area were created and approved for installation.
The project started with excavating and re-grading the property and installing a drainage system in the front and back. The installation of the Hardscape in the front yard included new Goshen Stone steps with bluestone landing and treads, a wide front entry/walkway with space for seating using Techo-Bloc Blu 60 Grande pavers in Champlain Grey color and a soldier's course using Techo-Bloc Blu 60 6×13 pavers in Onyx Black color. A new granite light post was installed to help illuminate the new entryway. A new foundation planting and island plantings were installed to finish off the front yard.
The back outdoor living & entertainment space consisted of Goshen stone seat walls & pillars with lighting and Bluestone coping. The large patio was installed using the same Techo-Bloc Blu 60 Grande pavers to tie in with the front walkway. New natural shade plantings were installed to create a naturalized setting to blend in with the wooded property.
The final outcome was amazing and is being enjoyed daily by our client with friends and family.
If you would like to have a backyard designed & installed just like this one, please contact us for a free design consultation.