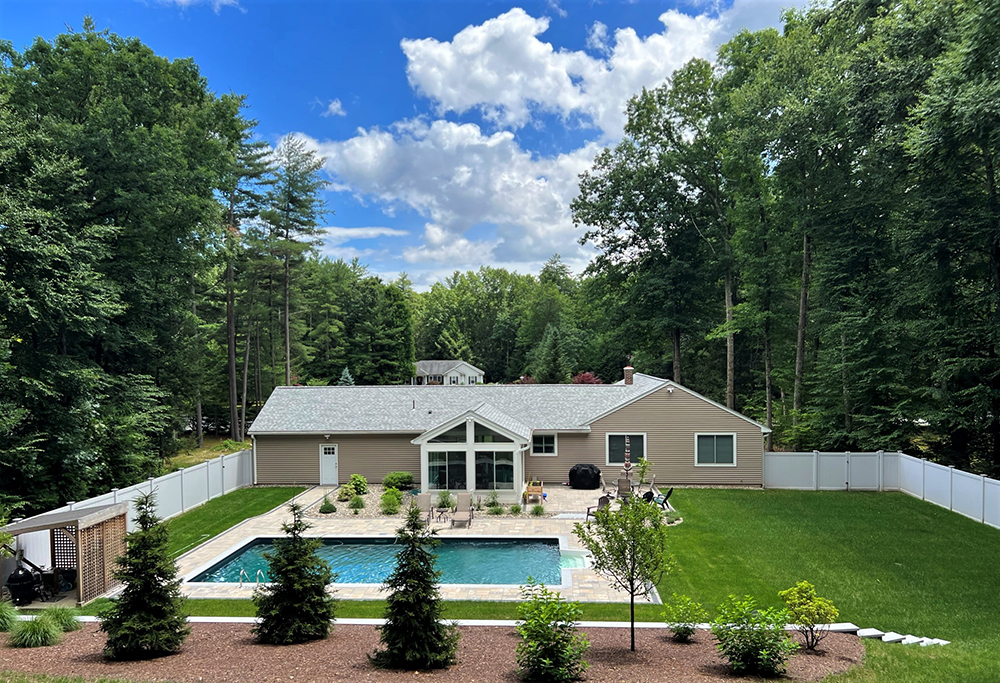 Backyard Poolscape Transformation – Easthampton, MA 01027
Our clients came to us to design and execute a complete makeover of their backyard and pool area in Easthampton, MA, giving them their very own personal backyard retreat. After working with our clients to complete a design for their backyard retreat, we were able to build them exactly what they asked for!
We started by removing all the existing structures including; retaining walls, concrete patio, shed and fencing, but leaving the existing pool that was already in place. We then excavated the hill side back and expanded the area behind the pool. A fresh new pool liner was installed by Juliano's Pools and Spas and when that was finished, we were able to get started with the poolscape renovation by first installing gorgeous Granite pool coping around the perimeter of the pool. We then installed a 1,500 sq ft paver pool patio with a separate grilling area and a walkway leading to garage door entrance. These areas were installed using Unilock Beacon Hill Smooth pavers in the color Fossil with a decorative banding using Unilock Copthorne pavers in the color Basalt and a soldier's course using Unilock Brussels Half Stone pavers in the color Limestone. We transitioned the space between the pool patio and grilling patio with three large Granite stepping stones embedded in river rock. We finished the patio area with an 8 ft x 1 ft Granite step leading from the patio to their sunroom entrance. We installed river stone beds around the sunroom exterior, adding low maintenance perennial plants and shrubs. Lastly, we built a pool equipment privacy shed using cedar square lattice panel walls and a single pitched metal roof.
We then moved to the hillside next installing a two-tiered retaining wall made with 3" & 6" Unilock Estate Wall blocks in the color Granite and finished them both with Granite coping. We installed mulched planting beds along the back hillside planting grasses, shrubs and trees, including 3-10-12 ft Hemlock trees at the top of the hill. Hastie Fence installed Bufftech Chesterfield Vinyl fencing in the color gray to the lower portion of the back yard and black chain-link fencing around the hillside, enclosing the entire space. Our client requested sod to be installed around the pool area for immediate enjoyment of the pool space and seed for the remainder of the lawn and hillside. Our clients are extremely pleased with the finished results of RJM Landscaping's design and installation of their backyard retreat. We look forward to working with our clients again on phase II of this project in the Spring of 2022, implementing a landscape design in the front yard.
If you would like to have a backyard designed & installed just like this one, please contact us for a free design consultation.