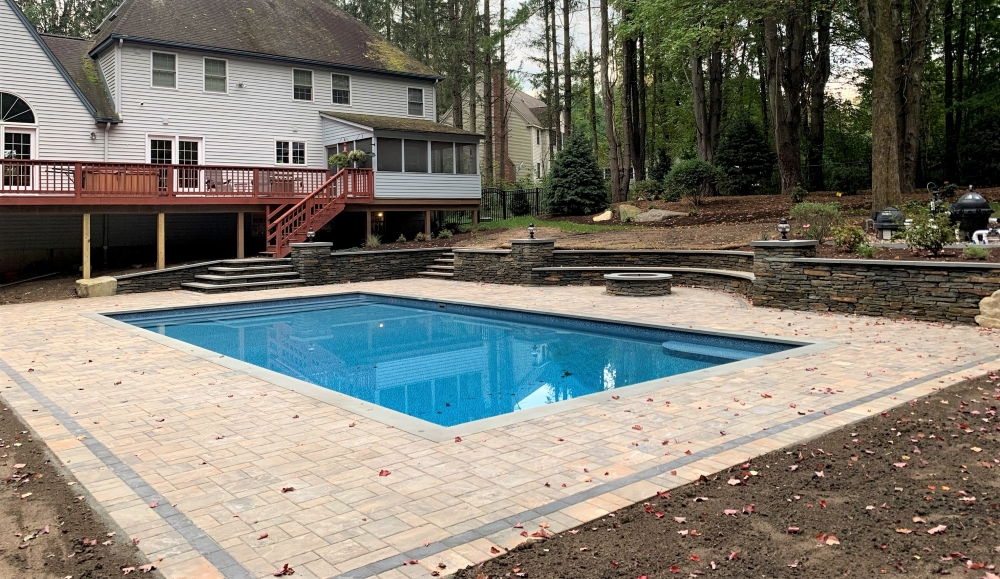 Luxury Poolscape in Amherst, MA 01022
Our client contacted RJM Landscaping requesting a design plan to turn their private wooded backyard into natural outdoor entertaining space for the entire family. We designed the perfect outdoor living space incorporating natural elements and delivered the ultimate backyard oasis they envisioned!
We started by having a 20 x 40 heated pool, complete with full width bleacher stair entry and a deep end corner bench installed last fall by Juliano's Pools and Spas. This 2021 season, we provided the outdoor living space by first adding a beautiful natural 2" Thermal Bluestone coping to the pool. We installed 1,700 sq ft of patio space surrounding the pool using Unilock Treo Endura pavers in the Fossil color, with a soldier's course using Unilock Treo Endura in the color Charcoal.
For our clients entertaining needs, a 5-foot, wood burning, fire pit was built on the pool patio, using natural Goshen Stone and capped with 2" Thermal Bluestone. Using the same natural stone, a retaining wall with a rounded section of built-in seating around the fire pit, 4 lamp-post pillars and set of steps were installed along the entire hillside.
We installed the finishing touches by creating and installing a new lawn and landscape plantings that would complement the natural wooded surroundings. Lastly, black aluminum and chain-link fencing was installed around the entire back yard by Hastie Fence.
If you would like to have a backyard designed & installed just like this one, please contact us for a free design consultation.