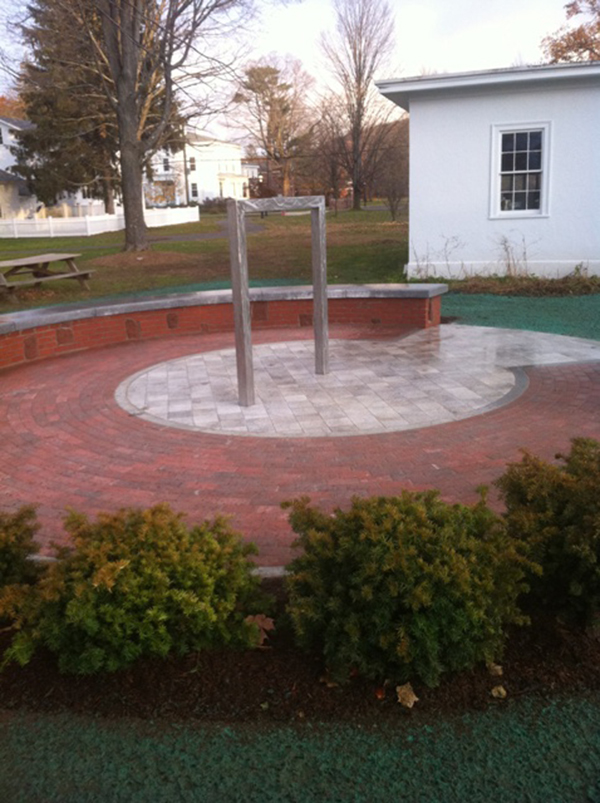 New Bell Terrace Project – Williston Northampton School, Easthampton, MA 01027
It was an honor to install this project because of its special meaning. The "bell" in which this whole project was centered around, has been in storage for many years. Previously, it has been brought out only during special events. When it is rung everyone on campus pauses for a moment of reflection. The bell originated at the Northampton School for Girls and now resides as part of the Williston Northampton School campus.
The completed project features a sitting wall capped with Granite, Granite curbing and a key hole design laid out with Unilock Umbiano Pavers in the Winter Marvel color. The outer ring was completed using Unilock Holland Stone in Rustic Red. The main focal point of the project, the bell, is now hung from a brushed Stainless Steel frame for all to enjoy. Now students and faculty can enjoy the new space and take in a piece of history.
The Williston Northampton School has a great working relationship with R.J.M. Landscaping. Rick and his crew first worked for us as a subcontractor on a large field, track, and tennis court project. We were so happy with their work that we have had them do the bulk of our contracted landscape work since that time. We have also had them help our crews move through the entire campus to get it prepared for special events. In particular, we have had two significant projects with donors and a landscape architect involved that Rick and his crews have completed for us. The most recent was a special terrace that featured a bell that was a significant feature from the original Northampton School for Girls campus. This terrace will be one of two focal points of a green space of a residential quadrangle that is being developed at the school. The terrace combines a custom built bell frame, several types of pavers, granite curbing, granite benches on a brick base, and plantings around the outside. The previous project is a prominent garden space. The garden has a variety of small trees and shrubs as well as plant beds with a wide variety of flowers and grasses. The garden pathways have benches and trash and recycling containers that were selected and commissioned from a nationwide competition. The garden also features restored, cast iron fencing from the original downtown Easthampton location of Williston Academy. The fencing has new granite posts that were replicated to match the original. Since the installation, R.J.M. has continued to maintain this space for us and has added irrigation and additional plantings. Williston has been served very well by the work done by RJM. Landscaping and plans to continue to work with Rick and his crews. I would certainly recommend them to others looking for high quality landscape work.

Jeffrey Tannatt | Director of Physical Plant | The Williston Northampton School